What happens when one of your amazing customers calls you and says "we have this special project and we need about 50,000 promotional items produced and ready for shipment in a week and a half, can you help?" Well, if you're the Ad Specialties department at Heritage Solutions you say, "sure – no problem!!" (Then you proceed to ask all your employees to dig in their heels for the next week and a half! They love a good challenge!)
Our great partners over in Community Relations & Corporate Events at Chesapeake Energy Corporation recently had a need arise. They wanted to send 250 packages to emergency responders in their Marcellus Shale operating area to show their gratitude for all they do on a daily basis, but also to remember the 10th Anniversary of September 11th.
They wanted each box to be stuffed with goodies such as baseball hats, koozies, footballs, playing cards, frisbees, dominoes and flashlights that the responders would enjoy! The kit included the following thank you note:
"You put others first. We call when we need your help, and you're the first to respond. Today, we want to put you first. On this day we remember the sacrifices made 10 years ago and the commitment you continue to make to keep our loved ones safe and our communities secure. Thank you for everything you do."
Our ASI team got busy (when I say busy, I mean busy) they got on the phone with vendors, made calls, sent emails, got product proofs, made more calls….and a week and a half later all the product was delivered to Chesapeake for the kitting process. (Yes, we do kitting here at Heritage, but the customer wanted to be all hands on and assist in this project, it was close to their hearts…which we thought was pretty cool!)
Denise, our ASI manager, went to the clients to ensure everything was received properly and then rolled up her sleeves and stayed around to help with the kitting. It was a great team effort.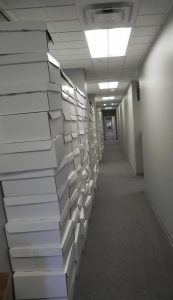 Now I'm picturing the guy from the A Team saying "I love it when a plan comes together!" The plan did come together, which makes our customer very happy…and us too!