A while ago we blogged about the Breast Cancer Awareness shirts we did for INTEGRIS. Well those shirts have literally gone viral!!! (Not sure that's the best analogy when talking about a hospital and I'm also not sure it's 100% true!) WHAT IS TRUE is that INTEGRIS entered a video into the 2012 Pink Glove Dance contest sponsored by Medline, and they need our VOTES!
This all started in 2011 when a 30 year veteran INTEGRIS employee, Monica Rostykus, approached her employer about entering the Pink Glove Contest. She was diagnosed with stage 2 breast cancer on April 7, 2008 and was re-diagnosed four more times. Throughout her journey, she went through 14 surgeries and countless rounds of chemotherapy and radiation treatments. Despite her challenges, Monica made it her mission to raise breast cancer awareness. Through bake sales and other efforts, Monica became the #1 fundraiser at INTEGRIS, and the #2 individual fundraiser for all of Oklahoma City for Susan G. Komen. She also took part in the INTEGRIS YOU-&-I campaign, promoting her passion to fight cancer.

Monica approached the marketing department in 2011 to put together a Pink Glove video, but due to time constraints, INTEGRIS was unable to meet the deadline. The marketing department promised to put it on the calendar for 2012. Many hours were put into creating the video by numerous people from videographers to dance coordinators. Monica was at the heart of it all, appearing in the video in the OR at Baptist.

In August, just a few days after filming her part in the video, Monica began experiencing increased pain and shortness of breath. By September, Hospice had been called in to help manage her pain. When the pain could not be controlled at home, she was moved to the INTEGRIS Hospice House where she was constantly surrounded by both her personal family as well as her INTEGRIS family. During her stay, she watched the Pink Glove video and even did the dance motions while lying in her bed. On Sept. 27, Monica's battle finally came to an end. Monica's unyielding faith and indomitable spirit were an inspiration to everyone who knew her.
INTEGRIS

kept their promise to Monica, and have dedicated this year's video to her!!
Here's what you can do to help….
#1 VOTE
Vote for their video! Voting has started and runs through Friday,November 2nd. To vote, visit pinkglovedance.com or go to integrisok.com and click on the Pink Glove Dance banner and search for the INTEGRIS video. Voting will be conducted using a contest application integrated with Facebook. Users must have a Facebook account and be logged into that account in order to vote.
The top three videos receiving the most votes will have $10,000, $5,000 and $2,000 donated to a charity of their choice. INTEGRIS has selected Susan G. Komen for the Cure, Central and Western Oklahoma Affiliate as the recipient if they are in the top three. (Last year's winner had 65,000 votes! So start voting people!!)


#2. WATCH THE VIDEO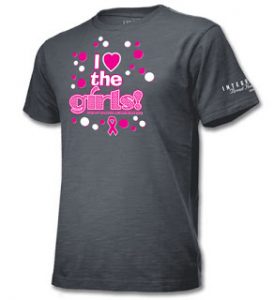 When you vote, watch the INTEGRIS video! It's very well done, they did an awesome job. You'll be glad you did. See how many times you can find the shirt we helped them with! : )
#3 STAY AWARE!
• Each year, approximately 200,000 women and 1,700 men are diagnosed with breast cancer
• More than 40,000 women and 450 men die from the disease annually
• After skin cancer, breast cancer is the most common type of cancer among women in the U.S.
• Approximately 1 in 8 women will have invasive breast cancer some time during her life
• The likelihood of dying from breast cancer is about 1 in 35
• Nearly 90% of women diagnosed with breast cancer will survive the disease at least 5 years
• There are about 2.5 million breast cancer survivors
• Starting at age 40, women should undergo annual mammogram screenings
• To schedule a mammogram at an INTEGRIS facility, call 855-MY-MAMMO (855-696-2666).
Thank you for supporting this amazing company for an amazing cause!

GO VOTE!!!