Interview with the CEO Dave DeLana
The media has portrayed all CEOs as greedy and out of touch with the reality of their lower counterparts with no regard to their livelihoods. I have met many great men in all levels of management and few are still as hands on in their business as Dave is.
What interested me most about the opportunity of interviewing the CEO of our company was Dave is humble, empowering, and truly feels his employees are like a family. I work directly under our CEO and I can tell you he isn't a prideful or boastful man that enjoys talking about himself. I was lucky enough to convince him to be interviewed. You will notice many answers are short, not because he doesn't elaborate, but like any busy man he is very straight forward and to the point.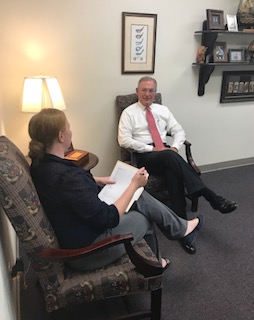 What three words best describe you?
Dave: I am very structured, a people person, and aggressive.
How did you get into the printing industry?
Dave: I had never worked in the printing industry before starting Heritage. I had just been discharged from the Air Force, and had come back to El Reno for family reasons. I needed a job and the main printing company just closed down. I saw it as an opportunity and took it. With no printing press experience I had a learning curve. I didn't purchase or take over the previous company, I started up the company from scratch. I hired a pressman, a bindery person, and I did the sales. Terry Walker, our current CFO, has been with us since practically the very beginning, back then she handled the paste-up and art. I did all of the sales during the day, and ran the pre-press at night. I made the plates and ran the press, whatever I needed to do to get the jobs out the door.
What does success look like for you?
Dave: Making a stake in society. At the end of the day can I sit back and know that people were helped and the employees were taken care.
What was the biggest height of success in your business?
Dave: There has been quite a few, the biggest move was when I bought larger presses and broke into the Oklahoma City market. This was about 1980. Since then was when we diversified revenue streams, for example, like the move into ASI.
What has been the biggest disappointment on the journey to where you are today?
Dave: I could give you a book on that but to simplify it, I purchased a smaller printer a number of years ago and it failed, the concept was good but the execution wasn't.
What would you say your number one key to success is?
(This was an answer he didn't even have to think about, straight away he gave me his reply.)
Dave: Long term relationships with our clients.
What key of advice could you give to an entrepreneur?
Dave: You'll never work a day in your life if you find something you want to do. So in other words, work in a vocation that you like, if you don't like what you are doing your chances of success are severely diminished.
Where would you like to see your business in 5 years?
Dave: I would like to see the opportunity for growth, we are positioning ourselves to be more diverse and that's what it is going to take to move forward.
What is the hardest part of being a CEO?
Dave: Dealing with the government. The government does not support small business and keeps passing regulations that makes it increasingly more difficult to run a business and to stay profitable.
How do you manage your time and get so much done?
Dave: Years of practice.
Outside of work, what activities help you to de-stress?
Dave: I enjoy playing Golf, and have a great appreciation for music. I play the guitar and banjo, in fact I used to play in bars in college as a great way to make money.
What are your favorite books?
Dave: I like reading books by Steven Ambrose who writes typically historical accounts. If I had to pick one it would be "The Victors" which is about World War II, which is of special interest to me as my father served in the Army in World war II and fought in the Battle of the Bulge.
Favorite place you have ever traveled to?
Dave: Scotland and Ireland, because it is the home of Golf, and I am Irish.
What is your favorite movie?
Dave: I would have to say either The Quiet Man, or Wings of Eagles; which are both John Wayne classics.
Favorite Television Show?
Dave: Murder She Wrote and Hallmark Channel, I like Mysteries.
What do you feel is the greatest thing you offer your employees?
Dave: Hopefully a place where they can work and enjoy working.
And that my friends, was my exclusive interview with our CEO, Dave DeLana. I learned quite a bit more about the start of the company and our journey to get to where we are now. It's fun to see a leader's perspective and gather best business practice insight from one of the most prominent business men in the state. Thank you for joining us and choosing Heritage as your marketing resource.