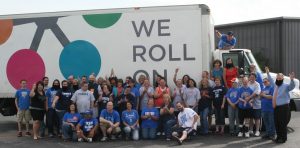 Can you tell we were a bit excited for the "big games" starting tonight??
Oklahoma is a rally state; we rally around our fellow Oklahomans in good times and bad times. That's why the Thunder is such a great team for OKLAHOMA!  They support each other, they always talk of teamwork, and they rally and fight for the win!  What an awesome time for them and our city.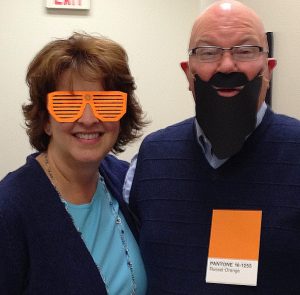 Greg and Julie added orange to their wardrobes this morning!  Julie has a great idea with the orange glasses....why didn't Westbrook pick orange ones too?
Greg turned a Pantone swatch into a "Thunder badge of honor" or something like that. It works!! Now his beard...that's another story.  I do fear it, and I fear the thought of him ever wearing it again.  ; )  Just kidding, Greg - way to show your team spirit!
Heritage - proud fans of Oklahoma and the Thunder!  GO THUNDER!